Activities – Yellowstone National Park
Welcome to America's outdoor playground! Sunny Slope Lodge sits on the border of Yellowstone National Park and thousands of square miles of National Forest and National Wilderness area. We have most of the information our guests need to learn about and reserve activities in the area. If you can't make up your mind, or need help planning the fun, we can assist with scheduling the things you and your group are interested in. Take a look at some of the ways you can spend your time…
White-Water and Scenic Rafting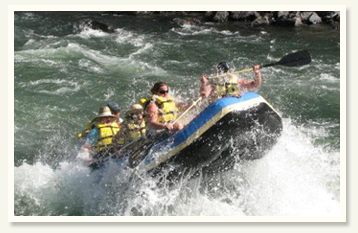 There is nothing quite like taking a raft trip down the river! Rafting on a Rocky Mountain river is an experience like no other. Rafting trips are offered for any degree of adventure…from a gentle float to a "get wet" trip to a more daring battle with the rollers. Most trips in our area cater to kindler, gentler rafting.
We highly recommend Flying Pig Raft Company. Our guests have always loved their customized trips!
Please note that each activity can be customized to your groups likes and needs. Please call now at 406.223.7939 or email reserve@yellowstonevacationrental.net to learn more about custom trips for any activity. Let's make your family vacation unique and memorable!
Wildlife Watching
Take off in your vehicle to go find the wild things! Armed only with camera, water and snacks, you will make "hunting the animals" take on new meaning. Be on the lookout for: bears, wolves, elk, bison, eagles, and much more! Great Spots: Lamar Valley, Hayden Valley and Mount Washburn Yellowstone Insight. MacNeil Lyons has nearly 20 years experience guiding and exploring in Yellowstone National Park with a passion for sharing his knowledge of the natural and cultural resources found throughout the Greater Yellowstone Ecosystem. The focus of MacNeil and his company is rooted in the simple concept of instilling an appreciation of preserving the world's natural resources for future generations.
Yellowstone Guidelines, a family business, has been providing guided adventures in the Yellowstone area for over 20 years. Please contact Chris Hondorf at 406.599.2960, tours@yellowstoneguidelines.com
Fly Fishing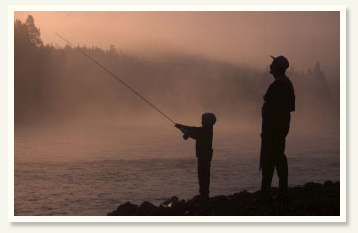 Fly fishing in this area is considered some of the best in the country. With blue-ribbon trout streams
just minutes from the Lodge (Yellowstone River and Paradise Valley), you are in for a truly memorable fishing experience! There are many great guides and top-quality fly shops in the area. So, whether you are a new fisherman who needs a little help landing the big one, or an old crusty caster who knows where they hide, this is the place to make it happen!
Westwind Guides L.L.C. is based in Montana's Paradise Valley
on the Yellowstone River, in the midst of some of the best wild trout fisheries in the west. With over 15 yrs of fly fishing guiding experience, we specialize in guided fishing on the best waters of Montana and Yellowstone National Park. The legendary Yellowstone, our home river, is the longest freestone river in the lower 48 with over 100 miles of Blue Ribbon trout water. We are within a short drive of the best waters of southwest and central Montana, including the Boulder, Stillwater, Madison, Missouri, and Bighorn Rivers. We also fish Depuy's, Armstrong's, and Nelson Spring Creeks, private trophy lakes, and other private waters.
Horseback Riding
Get a taste of the old west by seeing the beautiful surroundings on horseback! A genuine western time awaits you nearby the lodge! Experienced horsemen and women help even the "greenest" of "dudes" have safe and memorable experiences with choices in short rides or even backcountry trips that take visitors into the wild overnight. You may even plan to participate in a "cowboy cookout" dinner offered at a local ranch many nights during the summer.
Yellowstone Zip Line
Come experience an authentic GUIDED AERIAL ZIP LINE ADVENTURE featuring Montana's scenic landscapes, with up to 6000 feet of Zip Lines, Rope Bridges, and Challenge Elements. YellowstoneZipLine & Canopy Tours at the North Entrance to Yellowstone National Park, will have you soaring through a historic Montana ranch.
Hiking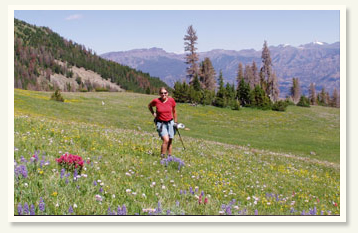 Hiking is one of the greatest, and easiest, ways to get in touch with these great outdoors! Yellowstone and the areas surrounding Sunny Slope Lodge have thousands of miles of hiking trails. From easy, level walks along creeks and rivers to day-long treks into the mountains, there is a trail for every level. Keep in mind that trails are for non-motorized traffic only. Hiking and bicycling only are allowed on National Forest Trails with all other motorized vehicles restricted to formal roads. Yellowstone National Park prohibits bicycles and all other non-foot traffic on all but a couple of trails inside the park. No pets are allowed in Yellowstone anywhere outside of paved common areas or guest cabins, and must be leashed at all times.
Yellowstone Hiking Guides wants to take you away from the masses and in to the wild. YHG will safely take you to a remote location where you can take in the beauty of Yellowstone away from the roadways. Too often than not, owners Josh and Emily Jo Mahan have heard park visitors say they remember driving through the park without getting out of the vehicle. YHG wants you to have unforgettable memories of the true Yellowstone: tranquility, wildlife and a sense of nature.
We offer hikes of all skill levels. Our Lamar Valley Safari hike takes you to the head of the famous Lamar Valley to view wildlife at work via spotting scopes around a gourmet brunch/evening appetizer. This is our easiest hike, great for kids and seniors. Our Solitude hike offers peacefulness with an alpine vista to clear your mind from the madness of travels. Our Lone Star Geyser hike takes you on a little known route to one of Yellowstone's premier back county geysers, stopping to take in a view of Old Faithful erupting from afar. YHG will cater to your needs and abilities. YHG wants to make your Yellowstone vacation a memory of a lifetime.
For rental cars, please use Josh at Journey Rent A Car
Winter Activities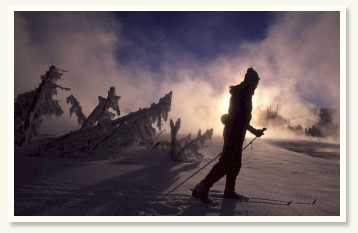 Cross Country skiing, watching wildlife and taking snowcoach or snowmobile tours in Yellowstone can't be beat! Did someone say Dog Sledding? The lodge has your guide and team…right outside the front door of Bear Lair Lodge!
Call us for information about arranging an amazing trip out into the local mountains on this ancient mode of transportation. What a thrill it is to be running with the team and feel their joy in being outside in the snow!
Learn more about Yellowstone Dog Sled adventures with Jason Matthews by visiting www.yellowstonedogsledadventures.com.